Hotels and other Accommodation
World Nomads
The Travel Insurance with the largest coverage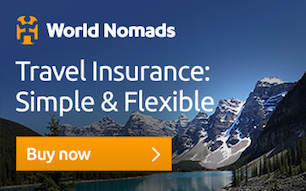 ---
When to go
The best time to travel to Latvia is from June to mid-September when it is hot and there is a lot of local food available. January and February are the coldest months. October and November have fall rains and daylight is short.
---
Weather
Latvia has a transitional climate between maritime and continental climates. Winter is usually long, with average temperatures of -7 to 1 degree centigrade. Summer can be considered hot with average temperatures ranging from 17 to 22 degrees centigrade.
---
Official language
Although Latvian is the only official language, Russian is widely used throughout the territory.
---
Local currency
The local currency in Latvia is the Euro.
---
Travel documents
Foreign citizens need a valid Citizen Card or Passport to enter Latvia for travel of up to 90 days.
For stays longer than 3 months, a residence permit must be requested.
For further information, please visit the Latvian Ministry of Foreign Affairs website: www.am.gov.lv/en/
---
How to get
Riga International Airport is 20 km from the capital. Direct links with neighboring countries and other European countries are ensured. For more information: www.riga-airport.com/
---
Gastronomy
Wild mushrooms, royal catfish, venison, birch juice, strawberries and cherries, excellent honey, rhubarb wine and beer brewed by local masters - all this and more await you in Latvia.
Riga is a great destination for a gourmet holiday, but you will also find great restaurants outside the capital, built on historic properties and other beautiful places.
---
Main tourist points
- Riga: The largest and most exciting metropolis in the Baltic countries, Riga will inspire you. The architecture of world-class Art Nouveau Gothic cathedrals, bustling cafes and bars and delicious restaurants, from haute cuisine to local market produce, are all at a price that will be added to the pleasure.
- Gauja National Park is the perfect place to unwind. Ride miles of stunning trails, explore fascinating medieval castles or thrill with bungee jumping, sledding and other adventurous activities.
- Jurmala: Just a 20-minute drive from Riga, Jurmala (Jūrmala) is a seaside resort like no other. If you're looking for fun, there's vibrant beach life and unique spas, offering a tempting menu of mud packs and massages. But Jurmala is also a great place to get back to nature, strolling for miles of pine-covered beaches or admiring the beautiful log cabins.
- Return to a milder age in Kuldiga (Kuldīga), an ideal destination for a romantic weekend or family vacation. This beautiful city offers a mix of Baroque splendor and soulful log houses, Europe's largest waterfall and charming restaurants and guesthouses to ensure a magical stay.
Dubbed the Baltic Versailles, the Rundale Palace (Rundāles pils) will transport you into an era of splendor. Designed by Francesco Rastrelli, the architect who also created the St. Petersburg Hermitage, Rundale is a superbly restored Baroque and Rococo masterpiece, filled with art treasures and surrounded by a delightful rose garden.
- Latvia is a land of ancient traditions, and the best place to try them is the Turaida Museum Reserve near Sigulda. Explore the medieval castle and its intriguing museum, connect with Latvian music heritage at Folk Song Hill and enjoy breathtaking views of the lovely Gauja River Valley.
- Cesis (Cēsis) is a city with an intriguing mix of modernity and history. Savor the timeless ambience of the old town, indulge in medieval life in the old castle, enjoy cute coffees and enjoy various artistic and musical events.
Known as the "city where the wind rises", Liepaja (Liepāja) is a port with unusual attractions.
Art Nouveau pearl architecture to historic churches, the brutalist Soviet military port of Karosta, a magnificent beach and rich musical traditions.
Latgale is an unusual gem that deeply rewards visitors. From a museum to legendary artist Mark Rothko to the inspiring Basilica of Aglona, ​​eastern Latvia is full of surprises.
Stunning lakes, fascinating traditions, timeless craftsmanship and sincere hospitality will make this a place you will never forget.
- The port of Ventspils is a city with the sea in its veins, besides being a pleasant destination for the whole family. Enjoy street sculpture, let the kids run wild in the city's fun parks, discover the interactive medieval castle or relax on the Blue Flag beach.
---
Presentation
Latvia, officially Republic of Latvia, is a country situated in the Baltic Sea between Lithuania and Estonia.
Bathed by the icy waters of the Baltic Sea, it has a marshy coastline with sand dunes and important fishing ports. Riga, the capital, is the largest capital of the Baltic republics.
Discover ancient castles, stroll through impressive valleys or relax on miles of Latvian beaches.
A tapestry of sea, lakes and woods, Latvia is best described as a vast and preserved park with only one royal city - its cosmopolitan capital, Riga. The country may be small, but the amount of personal space it provides is enormous. You can always guarantee yourself a piece of unspoiled nature, whether for hiking, biking or dreaming on a white sandy beach amid pine-covered dunes.
---
Other world tourist destinations
---
City destinations and weekend getaways
---
Why to book with BOOK HOTEL PORTUGAL
The best prices
Our partnerships with the world´s largest operators offer research on the best market prices.
More options
At Rotas Turisticos you can book the hotel, buy the air ticket, book the transfer from the airport to the hotel and vice versa, book the local excursions, rent the car, take travel insurance and consult the places to visit and where to go.
Holiday Tips & Destinations
Hundreds of holiday destinations with all the options that allow you to easily choose the destination that best suits your dream vacation.
---
---